WHAT IS A SUMP & SEWAGE CHECK VALVE?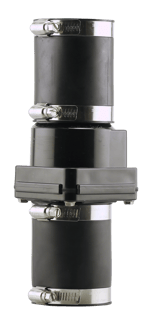 A Sump & Sewage Check Valve is a plumbing product that is specifically used in a Sump or Sewage Pump system. These valves help to make sure that the water that was pumped out does not come back into the pit. If you do not have a Check Valve installed, it will cause your system to work much harder and more often to pump out the same amount. Installing one of these valves will drastically reduce the stress that is put on your pump and save energy by limiting the amount that the pump needs to run.
A Sump & Sewage Check Valve is very easy to install, and even though they are not usually code, it is good practice to make sure you have one included in your system. In Sewage systems, these valves are generally required by code to prevent sewage from draining back into the basin.
Most of the time, these product use what is called a "swing valve" or "flapper valve" to control the flow of water. This valve is pushed open when the pump pushes water through a certain direction, and then closes as the pump stops. This keeps the water or sewage that is in the vertical part of the pipe from coming back down. The main difference between a swing and flapper valve is that the swing valve is usually a hinged plastic cover while the flapper is just a piece of rubber. Both are pushed up by gravity when the pump turns on, and close after the pump turns on.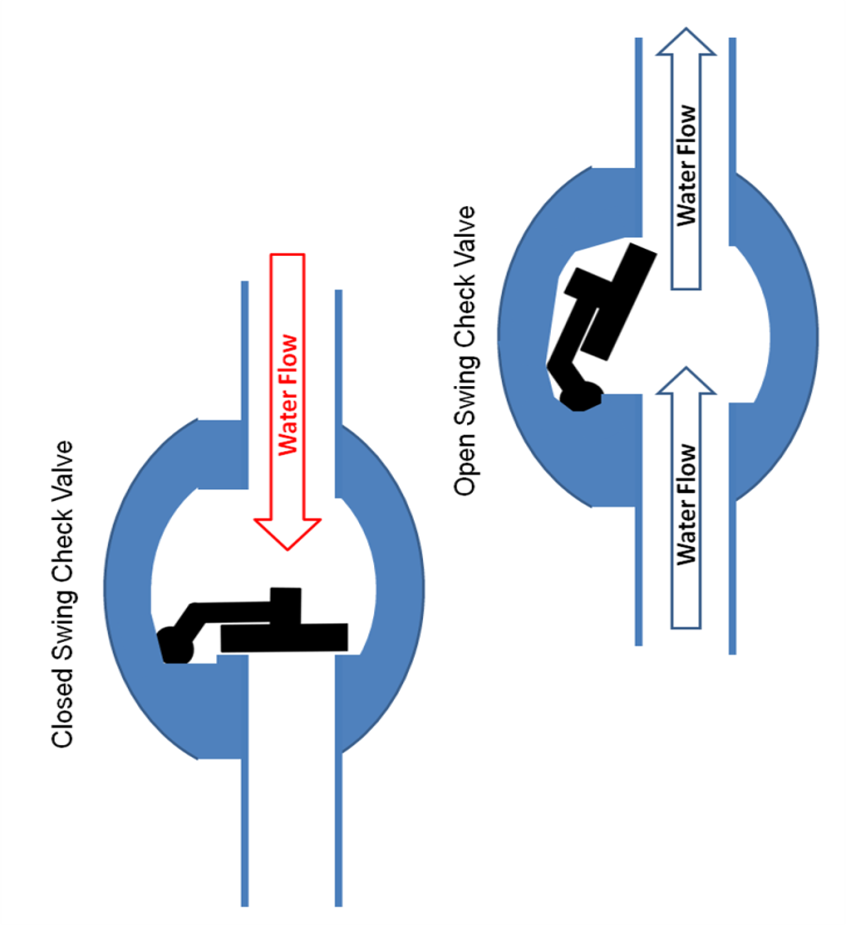 For sewage applications, a Ball Check Valve is popular to use as they stand up better to the tough conditions. In a sewage system, you are generally dealing with solid and semi-solid liquids. With a swing check valve, these solids can make this function not work well over time. A Ball Check Valve is much less likely to be effected by these elements.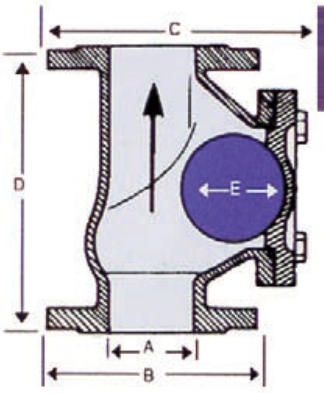 WHAT APPLICATIONS ARE THEY USED IN?
As the name would suggest, these check valves can be used in all sorts of Sump and Sewage related applications. They can be installed in vertical or horizontal systems, depending on the type of liquid that you are removing. If you are pumping out solid or semi-solids, the check valve must be installed horizontally (up to a 45 degree angle).
If you are putting in a check valve for a Sump vs. a Sewage system, different products may apply more. Refer to Different types of Sump and Sewage Check Valves for more information on when to use different products.
In many cases, you may not have a check valve installed in your system as it is not code in many places. This does not mean that you should not have one installed. If you have a Sump or Sewage system, the recommendation is that you would have a check valve. Having one included offers many benefits and is a fairly easy process to do yourself or have a contractor come and do.
DIFFERENT TYPES OF SUMP & SEWAGE CHECK VALVES
Although all of the Sump and Sewage Check Valves accomplish the same tasks, there are a few different types that are better suited for different situations.
Swing Check Valve
A swing check valve is the most common one that you will see for Sump applications. The force from the pump pushes the valve open, and then gravity will close the valve as the pump stops. There are many different types of swing checks to accommodate connection type and material preference. ABS and PVC are the most common material used. Only larger swing check valves should be used in sewage applications (2"). If you want to use this type of valve in a sewage system, make sure you do specific research on how to properly install the proper type of swing check.
Spring Loaded (Quiet) Check Valve
A Spring Loaded or Silent Check Valve works very similar to a swing check with one major difference. It has a spring incorporated into the flapper which forces the valve closed slowly as the pump beings to turn off. This will eliminate the loud "clunk" that often is heard from regular Swing Check Valves. This is something called Water Hammer. Many people opt to install these in their system to get rid of that sound occurring. Not only is Water Hammer annoying, it also is putting un-needed stress on your system.
ball/swing Combination Check Valve
A Ball/Swing Combination Check Valve incorporates a 2 valves into one, and is very useful to install in systems that need regular service. This product includes a ball valve so that you are able to completely shut off the line right above the check valve portion. Because of the union connection, you can easily service or change out the check valve portion easily. This product saves space and install time by combining these two important valves together. There is also a version of this Check Valve that is "Quiet" to help with the water hammer noise.
ball Check Valve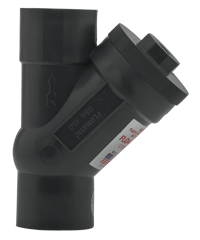 A Ball Check Valve is commonly used in sewage applications due to it's design. Because a Ball Check uses a ball rather than a flapper, debris does not get caught and tangled inside as easily. This is very helpful when you are dealing with pumping out solids or semi-solids. These valves tend to have a louder water hammer noise than a swing check, but will be a much better option in the long run.
BENEFITS OF A SUMP & SEWAGE CHECK VALVE
Even though these products are not usually code, they have many benefits that will make your system run much better in the long run. One of the benefits for Sump or Sewage applications is that a Check Valve will make your pump run much less.
Without a check valve, the water that is being pump vertically will all come back into the basin once the pump turns off. This means that a lot of the water you just pumped out is right back in the basin. This will mean your pump needs to turn on much quicker. This will reduce the pump's life, as well as waste energy cost. A Check Valve solves this problem and will let your pump run only as it needs to.
Another benefit of a check valve is that it protects your pump against short cycling. When your pump is turning on too often and quickly, the motor will heat up and over time can burn out the pump. This can be very costly, especially if you are using a higher quality unit. A Check Valve is a fantastic way to protect your investment from unnecessary damage.
Sump and Sewage Check Valves are a fairly simple product to install if you have some experience with Plumbing. Because of this, they are also not too expensive to have installed.
Caution: If you are not comfortable installing these yourself, make sure that you get a certified Plumber to do it for you. If these products are not installed correctly, it may cause flooding and other issues.
Here are some tips to remember when installing a Sump or Sewage Check Valve:
Install the check valve as close to the floor as you can to minimize the amount of water that drains back into the basin.

Anything under 2 ft above the floor is ideal.

Make sure that the valve is installed in the correct direction.

Many times, the valve will have a direction indicator on it. If it is not installed in the right direction, the valve will not open when the pump turns on.

Test your connection to ensure a leak-free seal.

It may seem like a no-brainer, but whatever connection type you have, make sure that it is properly sealed.

Only use a flexible connection is your system has under 10ft of head.

If your system has over this amount, solvent welding is the recommended connection type.

Best practice is to install the valves in a vertical position.

Some valves can be installed horizontally, but only if the product clearly specs that as a use.
*Disclaimer: The information on this page is intended for basic education. Ensure that you review any part specific technical and installation data before selecting a product as that documentation will have all relevant info pertaining to that part.